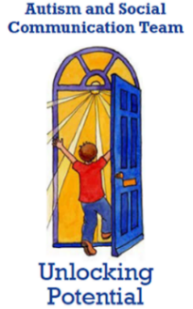 Specialist Learning Support Assistant Surgeries
The Autism and Social Communication Team are delighted to be offering drop in surgeries hosted by the teams Specialist Learning Support Assistants (SLSAs). In these surgeries school staff can seek general advice about implementing strategies around autism and social communication differences.
The team can support you to develop your knowledge, understanding and practice. Some subjects already explored in last half terms surgery include the following:
Transition Advice.
Visual supports
Sensory needs
Self -regulation
Anxiety
Communication
Social Stories/Comic Strip
Schools will be offered a pre booked 20- minute slot to discuss and share concerns, SLSAs will offer generic support and advice which can be tailored for anonymised children.
When and where
TWENTY MINUTE MICROSOFT TEAMS CONSULTATION
CONSULTATION
TUESDAYS
9:30 – 11:30
From 21st September 2021
Please email: [email protected] requesting a booking form to book a slot.